A WORD FROM LEGACY
Welcome, one and all, to the first Monthly Shipment of 2023!
Logistics Management's Year in Review perhaps put it best by calling 2022 a "chaotic, topsy-turvy period that was quite unlike prior years" — a year defined by supply chain volatility, economic instability and political strife, to name a few. Here's hoping that the New Year wipes the slate clean not only for well-intended resolutioners, but for the logistics industry as a whole.
At the very least, all of us at Legacy are eager to get back to work providing exceptional service to our clients and, of course, reporting on the latest industry news and trends for Shipment readers. With that in mind, let's kick things off with the very first Market Update of 2023.
---
MARKET UPDATE
December 2022 LMI Sees Slight But Noteworthy Increase
The December 2022 Logistics Managers' Index (LMI) is here, with a reading of 54.6. Although this is only a one-point increase from November's reading of 53.6 — and just a few points higher than the LMI's all-time low of 51.3 in April 2020 — it's a marked change following a seven-month slump.
This increase can largely be attributed to holiday season spending. Despite rising inflation, retailers were able to incentivize customers to shop by offering steep discounts, with some firms offering as much as 50%–70% off their wares. As a result, Mastercard reported that consumer spending for the holiday season was up 7.6% year-over-year (YOY); eCommerce sales, in particular, saw a 10.6% YOY increase.
Inventory levels grew slightly in December, with the corresponding index up 2.4 points to a reading of 57.3, though this was far short of the rate that industry experts initially anticipated. As the official LMI report states, "Despite the sizable reductions in inventories, it does not appear that many retailers are aggressively pursuing a sizable restocking of goods."
The slowdown in demand has been felt on both coasts, as inbound container volumes steeply declined toward the end of the year. According to the Wall Street Journal, Southern California ports loaded just 566,522 twenty-foot equivalent units (TEUs) in November — a 26% YOY decrease and the lowest level recorded since March 2020. Although East Coast ports fared better, in part due to firms diversifying their routing strategies, they weren't exempt from the downturn: The Port of Savannah reported a 7.6% YOY decrease in inbound volumes for November, while the Port of Charleston saw a 21.8% YOY decrease.
While container imports experience depressed demand, demand for warehousing space remains high: The Warehousing Capacity index registered a reading of 44.7, down 2.1 points from November's reading, marking the 29th month of continued contraction. Conversely, the Warehousing Utilization index jumped up 7.3 points to a reading of 64.1.
The push and pull between available supply and demand has led many firms to announce plans to establish new distribution centers in strategic locations along the East Coast, and for retailers to convert brick-and-mortar locations into fulfillment centers. Coldwell Banker Richard Ellis (CBRE) predicts that 1.7 to 2.2 billion square feet of additional space dedicated specifically to eCommerce warehousing will come online by 2026.
Without strong demand to replenish inventory levels — nor the warehousing space to accommodate additional inventory — the transportation sector has entered something of a slump. Although the Transportation Capacity index dropped 1.9 points from November to December, it still sits at a reading of 69.5, just shy of expansion territory. Consequently, tender rejection rates plummeted to just 4% — a far cry from the 20%–25% rejection rates observed at the height of the pandemic. Utilization rates have also dropped, with the Transportation Utilization index entering contraction territory for the first time since April 2020 with a reading of 48.1.
As a result, transportation prices continue their precipitous drop, with the Transportation Price index reaching an all-time low of 36.9. Diesel fuel prices have likewise dropped, down to $4.537 per gallon for the last week of December — the lowest price since February 2022, though still $0.92 higher than December 2021. Finally, spot rates have significantly decreased, which the LMI predicts could lead to a tightening of available capacity as carriers attempt to bring prices back up and restore balance to the market.
For a complete overview of the December 2022 LMI across all indices, please refer to the chart below: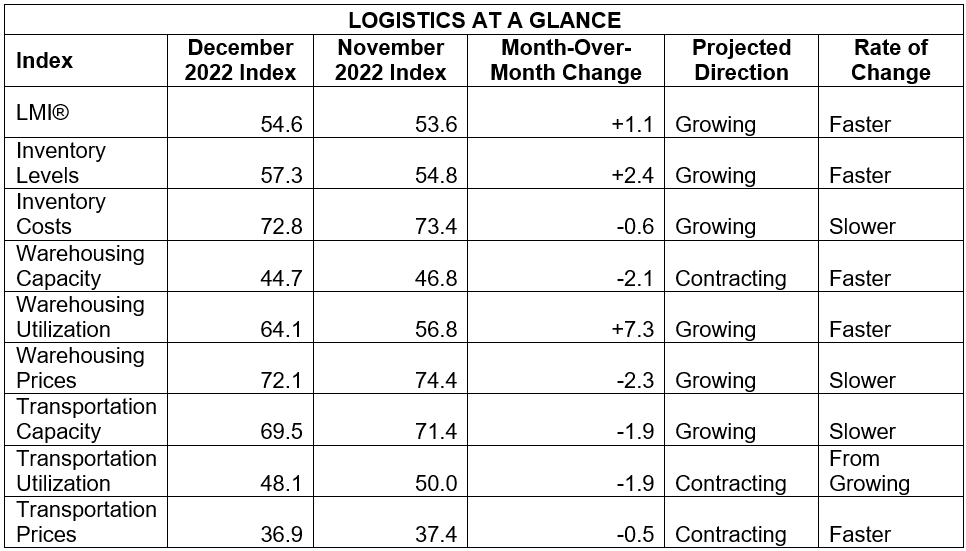 ---
Also in Today's Shipment:
California's hegemony over U.S. shipping may be coming to an end.
Rail service issues seen in 2022 are expected to continue well into the new year.
Shippers gain the upper hand as annual contract rates start to decline.
Trucker shortage eases as independent operators return to trucking firms.
IN THE NEWS
California Ports Lose Their Grip Amidst U.S. Port Hierarchy Shakeup
To say that West Coast ports had a difficult year in 2022 would be an understatement. From pandemic-induced supply chain bottlenecks that contributed to extensive port congestion to as-of-yet-unresolved labor contract negotiations sparking fears of a dockworkers' strike, West Coast ports have faced their fair share of challenges. Firms have responded by taking their business elsewhere — namely, to ports along the East and Gulf Coasts.
As reported by Paul Berger for the Wall Street Journal, the Port of Los Angeles ceded its title as the busiest port in the nation to the Port of New York and New Jersey in August 2022 — a title that the Port of NY and NJ maintained for the remainder of the year. U.S. containerized cargo shares at the Port of LA and the neighboring Port of Long Beach fell to a combined 25% as measured by weight, their lowest level in nearly two decades. By way of comparison, the Ports of Savannah, Houston and Charleston all saw more import containers this year through September than during the same period in 2021.
Importers learned a hard lesson from the two-year long container ship backlog along Southern California ports: diversify, or suffer the consequences. As a result, many have sought alternative routings to East and Gulf Coast ports, hoping that the benefits of risk mitigation will outweigh the cost and complexity of longer voyages and moving shipments to multiple ports. This shift has caused a major shakeup in U.S. ports, with the Ports of LA and Long Beach — long the preferred destination for shipments out of China — fighting to regain their crown.
It'll be an uphill battle. Even if members of the International Longshore and Warehouse Union and the Pacific Maritime Association are able to reach an agreement without labor disruption, there's no guarantee that shippers will return. Gene Seroka, executive director of the Port of LA, says that of the 21% of cargo volumes lost from August through November, he expects that 5% will be lost for good. "We're gonna have to fight to get every piece of it back," said Seroka.
Perhaps ironically, the shift to the eastern half of the country brings U.S. shipping back to its birthplace; as Berger notes, the modern container shipping industry began in Newark, NJ in 1956 with a converted oil tanker called the Ideal X. Although nothing is set in stone, now that a growing number of firms are expanding their distribution networks in eastern states, it does seem as though the shipping hierarchy may be permanently upended, with California no longer at the top of the food chain.
---
Rail Service Issues Could Spell More Trouble in 2023
Much of 2022 was marked by challenges within the rail freight industry — and, according to a new report from Joanna Marsh for Freightwaves, it looks as though many of those challenges will persist well into 2023.
Chief among those is rail service disruption. The spring of 2022 saw a serious slowdown in freight rail performance due to a combination of factors, including staffing shortages, port congestion and weather events. This slowdown led to excessive dwell times, longer transit times and shipment delays, prompting outcry from shippers and unions alike and calling into question the practice of precision scheduled railroading among Class I railroads.
The Surface Transportation Board (STB) is exploring ways to address the issue of inadequate rail service, including allowing for reciprocal switching — a practice that would enable shippers to access multiple competing freight railroads via interchanges in order to incentivize competitive pricing. Other factors contributing to poor rail service performance — namely, staffing shortages — will be harder to overcome.
As Monthly Shipment readers are well aware, the threat of a nationwide rail strike that would have purportedly cost the economy $2 billion per day loomed large over the latter half of 2022. The strike was eventually shut down through government intervention — a decision that has been criticized by many pro-labor groups . Unions argue that enforcing the contract allows for poor working conditions to persist, thereby increasing worker dissatisfaction and job turnover and exacerbating the existing shortage. Other labor-related concerns for 2023 include a 24% retroactive pay raise for rail workers, ongoing contract negotiations between West Coast ports and dockworkers, the impending ruling on train crew sizes and the implementation of safety and management plans.
Last but certainly not least, rail industry stakeholders are keeping a close eye on the outcome of the proposed merger between Canadian Pacific and Kansas City Southern, a move which would create a 22,000 mile long single north-south rail corridor that would bisect the country. The merger has faced strong opposition from multiple groups, including small-town citizens, members of Congress, commissioners of the Federal Maritime Commission, and other Class I rail companies, all of whom have called upon the STB to deny it. It's looking increasingly likely that STB will, indeed, approve the merger some time in the first quarter of 2023, though it remains to be seen what conditions the Board will impose.
---
Carriers Court BCOs with Softer Contract Conditions
Maersk is the latest ocean carrier to offer flexible, long-term contract options this year in an effort to make good with shippers.
Ocean carriers were riding high at the height of the pandemic, reporting record profits due to heightened import demand and limited equipment and vessel capacity. Carriers further gamed the market by closing ranks and consolidating in an attempt to strategically manage capacity and drive up freight rates. But it seems the tide has turned now that consumer demand has softened and supply chain congestion has dissipated, sending container spot rates and annual contract rates into steep decline and causing freight rates to drop to breakeven levels on major east-west tradelanes.
According to Drewry's January 5 Container Insight report, carriers have officially "lost control of the container market," making multiple critical errors in proactively managing capacity — errors that have created a situation Drewry likened to "a doomsday clock, counting down the time before carriers incur losses."
Based on these conditions, shippers that have signed contracts find themselves at a major disadvantage compared to those in the spot market. But rather than give these shippers the cold shoulder — as they might have done last year — carriers are now meeting them in the middle, agreeing to renegotiate contracts and, in most cases, reduce rates and waive certain terms and conditions. Maersk, which until now offered notoriously inflexible multi-year contracts, is one such carrier.
Per The Loadstar, we can likely expect to see more carriers follow suit as we head into the 2023 contract season, especially if demand continues its steady slump after Chinese New Year.
---
Demand Slowdown Sees Drivers Returning to Trucking Firms En Masse
It appears that there may be an end in sight to — or, at the very least, a reprieve from — the trucker shortage that has caused significant supply chain congestion in the United States over the past three years. The trouble began during the pandemic when many drivers struck out on their own, incentivized by high freight rates and seeking their fortunes as independent owner-operators. But now that demand has softened, the market has entered a downturn and operating costs have substantially increased, we're seeing a growing number of drivers rejoining trucking firms or applying for jobs as forwarders.
According to a Fall 2022 driver survey from the Professional Driver Agency, 22.1% of drivers reported lower mileage over the past six to 12 months as a result of reduced freight volumes and 27.2% noted fluctuation in their mileage. This is consistent with changes in the market and helps explain how the employment outlook has radically changed within a relatively short period of time. Firms looking to sustain this momentum and continue to recruit qualified talent will need to offer not only favorable benefits, but more defined career paths to help employees continue to develop their skills while on the job.
Thank you for joining us for the very first Monthly Shipment of the new year; we can't wait to see what else is in store for the logistic industry in 2023. As always, we encourage you to visit our blog or resource center for additional insights, or contact us directly to find out what the experts at Legacy can do for you.
Signing off — we'll see you next month.