A WORD FROM LEGACY
From the news that a rail shutdown was narrowly averted to Chinese officials easing zero-COVID measures, this month's Shipment is so chock-full of good news that it practically comes gift-wrapped — and just in time for the holidays, too.
Let's "open" our last Shipment of the calendar year with our monthly Market Update
---
MARKET UPDATE
November 2022 LMI Plummets Over 3 Points, Down to a Reading of 53.6
For the third consecutive month, the Logistics Manager's Index (LMI) has registered a reading below 60. November 2022's reading of 53.6 marks a 3.9 point month-over-month decrease from October's reading of 57.5, and the second-lowest reading in LMI history, surpassed only by April 2020's reading of 51.3. Despite this continued descent, the Council of Supply Chain Management Professionals — the group behind the LMI — still reports some growth, particularly in inventory levels.
Following months of sky-high inventory levels, firms have finally been able to move goods downstream; the LMI's Inventory Levels index came in at a reading of 54.8, indicating a sustainable level of growth. This movement has been bolstered by holiday sales: Online shoppers spent just over $35 billion in the days between Thanksgiving and Cyber Monday, and the National Retail Federation predicts that retail sales will grow between 6%–8% over 2021 to between $942.6 billion to $960.4 billion. On the whole, consumer spending — though somewhat tempered by inflation — remains strong, and the U.S. economy has grown by 2.9%.
Inventory imports slowed for much of 2022 as firms attempted to run down existing inventory levels. This slowdown caused the cost of shipping a single 40-foot container from East Asia to the West Coast of the United States to plummet to just $1,426 in the first week of December — a far cry from the $20,000 per container average seen in 2021. The slowdown — combined with firms rerouting shipments to East and Gulf Coast ports — has also completely cleared the container backlog at the Ports of Los Angeles and Long Beach, prompting Executive Director Gene Seroka to entreat importers to return to the West Coast.
Despite carrying lower inventory levels, available warehousing capacity remains tight, with the LMI's Warehousing Capacity index registering a reading of 46.6, denoting the 28th consecutive month of contraction. Consequently, warehousing prices are on the rise, indicating sustained growth; warehousing utilization has also increased, albeit at a slightly lower rate. In response to this demand, the LMI reports that many firms are looking for ways to enhance operational efficiency through automation, with some even considering "dark warehouses" manned entirely by robot workers. With that said, it's unlikely that these dark warehouses will ever catch on so much as to completely replace human workers — in fact, many brands continue to rely on the human touch to provide a high-end, luxury feel to their shipments.
Demand for transportation has steadily waned from the record levels seen in 2021, which has led available capacity to increase; the Transportation Capacity index came in at a reading of 71.4. As the LMI states, "some of the new [transportation] capacity coming online will be electric," citing Tesla's all-electric semi-trucks, capable of running up to 500 miles per charge, and California's mandate that fleets switch to clean fuels starting in 2024.
With greater capacity comes lower prices: The Transportation Prices index dropped 4.8 points from last month's LMI, down to 37.4. This decrease is also driven by lower fuel prices; the price of a gallon of diesel fuel was down 20 cents from the last week of October to the last week of November. Transportation utilization is also on a downswing, with the Transportation Utilization index dropping 2.8 points to an even 50.
For a complete overview of the November 2022 LMI across all indices, please refer to the chart below: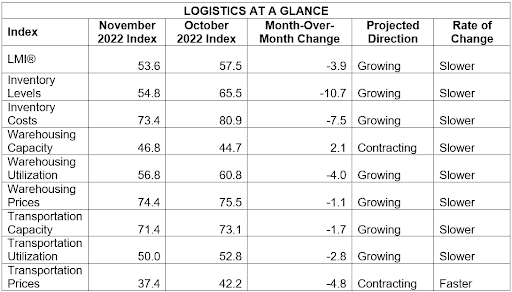 ---
Also in Today's Shipment:
Government intervention prevents a nationwide rail shutdown.
An end to the West Coast labor talks could finally be in sight.
FMC begins investigations after receiving over 175 complaints from shippers.
Nationwide protests have prompted China to scale back its zero-COVID strategy.
IN THE NEWS
Feds Pass Legislation, Narrowly Avoiding Rail Shutdown
On Friday, December 2, President Joe Biden signed legislation forcing a deal between freight rail carriers and unions, averting a strike or lockout that the Association of American Railroads estimated would have cost the economy $2 billion a day. A potential strike had been looming for months, but became a more serious threat when four rail unions — including the largest, the International Association of Sheet Metal, Air, Rail and Transportation Workers – Transportation Division (SMART-TD) — voted down their contracts, citing a lack of guaranteed paid sick leave.
Holdout unions argued that workers are unable to take time off in the event of a short-term illness and initially advocated for 15 days of paid sick time a year, later reducing that number to seven days. The National Carriers' Conference Committee (NCCC), which represented most Class I railroads in bargaining, rejected these terms on the grounds that it would cost railroads $688 million per year to implement such a change. It seemed increasingly likely that railroads and workers would not reach an agreement by the December 9 deadline, and that workers would strike, dealing a crippling blow to an already fragile domestic supply chain and disrupting commuter rail services for millions of travelers.
Reactions to this legislation have been unsurprisingly mixed. While shippers praised the Biden administration's swift action, workers and pro-union groups have expressed disappointment. SMART-TD did not mince words in its official statement , saying that "It is extremely disappointing that 43 Senators voted to prioritize the corporate greed of rail carriers and CEOs over the needs and quality-of-life improvements that our members so desperately deserve." For his part, President Biden has promised to seek alternative solutions to ensure railroad workers' needs are met, but asserted that legislative action was absolutely necessary, given that "A rail shutdown would have devastated our economy. Without freight rail, many of the U.S. industries would literally shut down."
---
Port of LA Director Predicts West Coast Contract Agreement in Q1 2023
After months of deliberation, there may finally be an end in sight to labor negotiations between the Pacific Maritime Association (PMA) and the International Longshore and Warehouse Union (ILWU). Unfortunately, that end may still be months away — at least, according to the Port of Los Angeles' Executive Director, Gene Seroka.
"It's not going to be soon. Even early days before the two parties sat down at the table, both leaders said we're going to get a deal done," said Seroka in an appearance on CNBC. "We here at the Port of Los Angeles say let these experts, these seasoned negotiators, get their job done at the bargaining table, and the rest of us are going to do our jobs and move the cargo. From where I sit, we won't have a deal this year."
So, when can we expect a deal? If Seroka's to be believed, not until early 2023 — likely in February. This estimate is consistent with prior negotiations, which on average have lasted roughly nine to 10 months. Though there have been some minor disturbances along the way — including the inter-union conflict covered in last month's Shipment — the negotiations have largely been smooth sailing, especially compared to the work slowdowns and worker lockout of 2002, and the worker strikes of 2014.
In the meantime, Seroka is looking for ways to lure shippers back to West Coast ports. In October 2022, the Port of LA saw a 25% year-over-year decrease in cargo volumes as a result of firms rerouting shipments to the East and Gulf Coasts to avoid potential disruption stemming from negotiations — a fear that Seroka insists is unfounded. The increased demand for space along East and Gulf Coasts ports has led to long container queues and shipping backlogs, not unlike those seen at West Coast ports during the height of the COVID-19 pandemic. Seroka asserts that softening import volumes along West Coast ports — the Ports of LA and Long Beach, in particular — have left them with more than enough available capacity, which could drastically reduce backlogs.
Whether PMA and ILWU will come to an agreement by February — and whether shippers heed Seroka's calls to return to the West Coast — remains to be seen, but with both sides committed to avoiding any work stoppages or lockouts, they've been able to avoid any major disruption.
---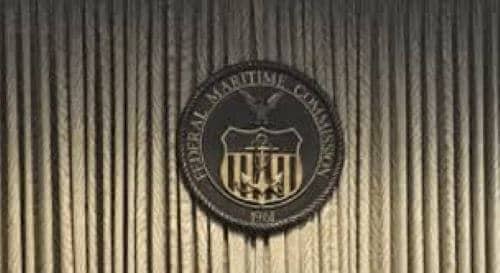 FMC Unveils Interim Procedure to Address 175+ Shipper Complaints
The Federal Maritime Commission (FMC) is preparing to investigate over 175 complaints lodged by shippers against carriers over excess and demurrage fees. On December 1, the FMC announce interim procedures for processing charge complaints; these include:
Each charge complaint deemed to have sufficient information and details will be reviewed by the Office of Investigations. The carrier named in each charge complaint will be contacted by the FMC and asked to provide a response to the complaint and justify the charge or fee under investigation.
If the Office of Investigations determines that a common carrier is non-compliant, it will be referred to the Office of Enforcement, which will advise the FMC to issue an "Order to Show Cause" to that carrier. The carrier in question must then provide a valid reason for why it should not be ordered to refund the fees or charges paid or waive the fee entirely.
If the FMC deems a common carrier's response to the Order to Show Cause insufficient, it will order a refund or waiver. If necessary, the FMC may also pursue a separate civil penalty.
Even if the Office of Investigations does not determine a carrier to be non-compliant, the party that lodged the initial charge complaint may still file a small claim or formal complaint with the FMC or seek an alternative dispute resolution.
These procedures come just six months after the Biden administration signed the revised Ocean Shipping Reform Act, which expanded the FMC's authority and enforcement abilities in an effort to address unfair detention and demurrage practices and mitigate consumer inflation. Several investigations are currently underway, with at least one complaint — levied by Achim Importing against Yang Ming — having already reached a settlement.
---
China Takes First Steps Toward Easing COVID Restrictions in Wake of Protests
Following a string of COVID outbreaks in Guangzhou, the largest city in the Guangdong province and the fifth largest in the country, China has started to ease anti-COVID restrictions. The decision comes after a series of protests against now-infamous zero-COVID policies that broke out across the country — protests in part prompted by a deadly fire in the Xinjiang region and that led to calls for President Xi Jingping to resign.
As part of these easing restrictions:
Chinese citizens who either test positive for or come into close contact with someone who has tested positive for COVID are no longer required to report to quarantine centers, but can instead isolate within their homes.
Certain public facilities such as schools, hospitals and nursing homes have eased their testing requirements; visitors may now use lateral flow tests as opposed to PCR tests to gain entry.
Mandated lockdowns will be restricted to more targeted areas, for a period of no more than five days (provided no new cases are reported).
Chinese officials have stated that these changes only mark the beginning of the nation's return to norm. Although nationwide protests certainly lit the fire for this decision, it's easy to speculate that reactions within the global business community helped fan the flames.
Following the sudden shutdown of the Foxconn facility in Zhengzhou, Apple announced plans to shift much of its production out of China and to other parts of Asia, including India and Vietnam. This holiday season, the company reported the longest wait times for iPhones in its 15-year history, with many expected to extend well past Christmas; these wait times are, in part, the result of COVID restrictions in its Zhengzhou facility.
It's a common story for manufacturers, many of whom began to adopt a "China-Plus-One" strategy at the height of the pandemic to offset the effects of factory shutdowns caused by the zero-COVID strategy. This shift has weakened China's status as a stable manufacturing center and threatened its economic standing; for reference, as of 2019, manufacturing accounted for nearly 30% of the country's total economic output.
—
Thank you again for joining us for the Monthly Shipment. We can't wait to bring you even more stories in the new year, but until then, you can visit our blog or resource center for additional insights, or schedule time to talk with a member of the Legacy team about your logistics needs.
Happy holidays from all of us at Legacy Supply Chain; see you next year!