Years after the pandemic disruption, eCommerce growth continues to accelerate. According to recent figures from the U.S. Department of Commerce, eCommerce sales in the first quarter of 2023 accounted for 15.1% of total sales.. This information is, perhaps, unsurprising given that eCommerce is poised to continue to grow in popularity as a retail channel with a compound annual growth rate of 12.0% from 2023 to 2030.

But while eCommerce looks to enjoy continued growth, the honeymoon period is long past. Now that eCommerce must once again contend with the in-store experience, online shopping has to provide a more convenient and frictionless experience. Consumers no longer have the patience to overlook stock shortages, higher delivery costs or mistakes in delivery. One industry survey showed that: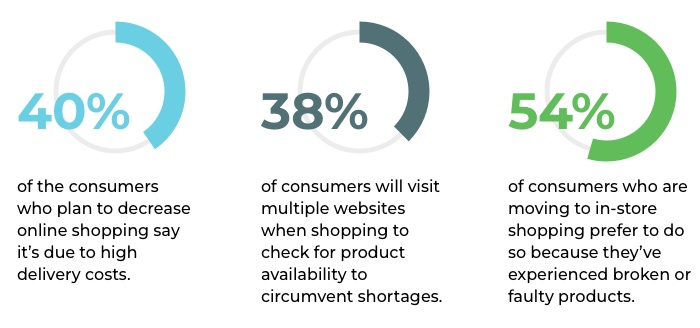 These stats show that fulfillment in eCommerce is paramount. Consumers do not have the patience for slow or faulty order fulfillment, especially as economic uncertainty and inflation cause them to carefully consider the cost of shipping. Understanding how accurate and efficient online fulfillment increases customer satisfaction and loyalty is essential for success.
In this article, we'll explain what eCommerce fulfillment is, discuss popular online fulfillment methods and help you determine which one will help your business streamline delivery, reduce costs and increase profits.
What is ECommerce Fulfillment?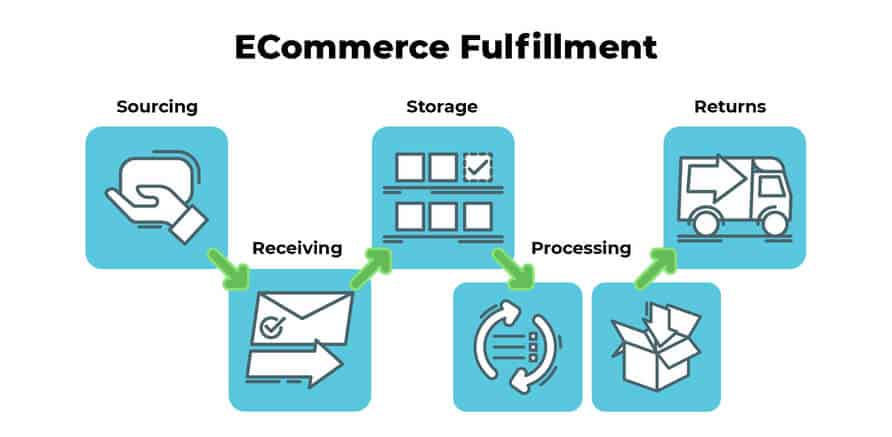 ECommerce fulfillment — also known as online fulfillment or e-fulfillment — refers to the process by which you deliver online orders to customers. As such, it typically includes the following stages:
1.   Sourcing: You can't fulfill online orders without inventory on hand, which is why the first step of the eCommerce fulfillment process is deciding where to source your products from. You have a few options here: Some retailers manufacture their own products, while others choose to source finished goods from suppliers based in other parts of the world (typically Asia). It's also possible to license other companies' products and sell them under your brand name (or vice versa), or to act as a pure retailer and only sell other companies' products in your webstore.
2.   Receiving: As its name implies, this stage of the process involves receiving finished products, either from suppliers, other companies, or your company's own manufacturing operation.
3.   Storage: Once you've received inventory, you'll need to store it somewhere — typically, in a warehouse. You can choose to manage your own warehouse or outsource warehousing services to a third-party provider. In either case, it's important that each individual product or SKU has a separate dedicated storage location so that items are easy to locate and access when the time comes to fulfill an online order.
4.   Processing: Once a customer has placed an online order, it is sent to your warehouse, where it enters processing. Order processing is technically a multi-step process in and of itself, and involves picking, packing and shipping:
a.   Picking: This is the process by which a warehouse worker receives a pick list — that is, a list of items to be included in the order — retrieves them from warehouse shelves and brings them to a packing station.
b.  Packing: During this stage of order processing, items are sorted by order and packaged according to instructions on either the pick list or packing slip. This step will typically involve simple or complex value-added services, such as special packaging, kitting, assembly and labeling.
c.   Shipping: Completed orders are loaded onto delivery vehicles for final shipment to the customer.
5.   Returns: Should a customer decide to return a product, you are responsible for returns processing, which typically entails the customer shipping the product in question back to your storage facility, or to another returns or reverse logistics service provider.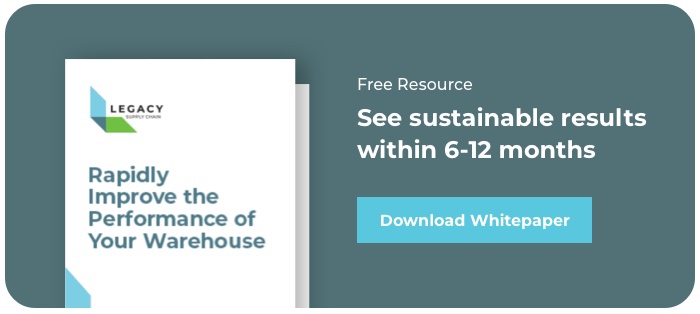 Popular ECommerce Sales Channels
There are a few different channels through which eCommerce brands can sell their products; the most popular include:
Direct-to-Consumer (via Your Own Webstore):
Many companies choose to sell products to consumers through their own branded webstore. With this particular channel, consumers simply place an order through a retailer's online platform, at which point the retailer officially begins the eCommerce fulfillment process as outlined above.
Once restricted to larger retailers that had the means to build, host and maintain their own online store, this option has become more accessible in recent years thanks to the proliferation of eCommerce retail platforms such as Shopify and Magento. These eCommerce retail platforms can seamlessly integrate with supply chain technology platforms to provide visibility throughout the eCommerce fulfillment process.
Direct-to-Consumer (via a Third-Party Online Retailer):
Though similar to the previous item on this list, this channel differs in one critical way: Rather than shop on a company's branded webstore, consumers purchase products through a third-party retailer. For example, a company that makes and sells power tools might list its products on a few different home improvement retailers' sites, such as Home Depot, Lowe's, Ace Hardware and Tractor Supply Company.
Even though a retailer might list their products through a third party, they still bear responsibility for eCommerce fulfillment, which they can either handle in-house or outsource (more on that in a moment). This particular channel is popular with many companies because it enables them to diversify their eCommerce network and capitalize on the brand-name recognition of major retailers.
Amazon Marketplace:
Since its founding in 1994, Amazon has become not only the biggest eCommerce retailer in the world, but also the biggest online sales channel. Hundreds of thousands of retailers sell their merchandise through the Amazon Marketplace.
In order to become an Amazon seller, merchants must meet certain requirements — for example, retailers must select and pay for a selling plan, and certain categories come with restrictions. There are also certain risks inherent to selling on Amazon — competitive pricing can lower profit margins, other sellers can steal your listings and so on.
Sellers who list their products in the Amazon Marketplace have two different fulfillment options: Fulfillment by Merchant (FBM), in which the seller bears responsibility for fulfilling orders (either in-house or by partnering with a 3PL), or Fulfillment by Amazon (FBA), which we'll cover at length in the next section.
Merchants who choose to pursue fulfilling their own orders via FBM are grouped into different categories based on their ability to meet Amazon Prime's service standards — that is, a two-day delivery window, free shipping and a 98% on-time delivery rate. Retailers that are able to meet these standards are considered Seller Fulfilled Prime and enjoy special benefits, including the ability to display the Prime logo on their products and a better chance at becoming a featured offer in the Marketplace.
There's no one right way to go about selling products online. Some merchants might choose to sell through one channel, while others might make their products available across all three. Ultimately, it's all about determining which option(s) are most likely to help you grow your eCommerce business at scale.
In-Sourcing vs. Outsourcing Online Fulfillment
Deciding which channel(s) to sell your products through is only half the battle — the other part is figuring out how you intend to store your inventory and fulfill orders.
There are four primary eCommerce fulfillment methods from which to choose:
In-house Fulfillment:
With in-house fulfillment, a business completes every aspect of the fulfillment process on its own, without outside assistance. For this reason, in-house fulfillment is also known as self-fulfillment.
One of the biggest selling points for in-house fulfillment is that it gives eCommerce retailers control over the entire fulfillment process and even enables them to add a personal touch to individual orders. It also saves them the hassle of having to negotiate additional business contracts with third-party providers.
All of that said, in-house fulfillment can be time-consuming and costly. As your business grows, you'll need to secure additional warehousing space, hire more staff and invest in order fulfillment software to accommodate increased order volumes. While this might not pose an issue for major companies, it could prove challenging for smaller eCommerce businesses or online businesses that lack supply chain expertise.
Given this information, in-house fulfillment is a good option for larger scale eCommerce operations that want control over the fulfillment process and that have the means to staff and run their own dedicated fulfillment centers. Smaller merchants that are just getting their start can also benefit from in-house fulfillment, though they might want to explore drop-shipping or third-party logistics (3PL) in the long term.
Drop-shipping:
Drop-shipping is an eCommerce fulfillment method in which merchants never actually hold any of the products shown in their online stores.
There are technically two forms of drop-shipping:
In the first, any time a customer places an order, it is automatically forwarded to the manufacturer of that product. The manufacturer would then handle the entire fulfillment process, including drop-shipping the product to the customer.
In the second, your company is the manufacturer, and your customer is not the end consumer, but rather a merchant that sells your products through their online store. In this scenario, any time an end consumer placed an order through your customer's online store, you would bear responsibility for fulfilling that order, either via in-house fulfillment or by partnering with a 3PL.
In either case, the retailer is only responsible for paying the manufacturer for fulfillment as orders come in.
Drop-shipping is an attractive option because it eliminates the effort and operational expense of having to purchase, store and manage inventory yourself. Since drop-shipping removes storage concerns, you can offer a wider array of products. It also reduces overhead costs, which frees up capital that you can invest in other parts of your business. Many eCommerce retailers also find drop-shipping appealing because it enables them to leverage their drop-shipper's existing network rather than go to the effort of building individual relationships with suppliers.
As convenient as drop-shipping can be, many eCommerce businesses find it challenging because it allows little to no control over or visibility into the order fulfillment process. This can lead to quality control issues and delayed shipments, which your company would still be responsible for handling. If these issues were to persist, it could do long-term damage to your brand. And although drop-shipping certainly offers cost-savings, it typically results in lower profit margins because you're working with a middleman. Finally, the drop-shipping market is incredibly competitive because many brands end up selling the same products in their online stores.Drop-shipping has a very low barrier to entry, making it a good starting point for eCommerce businesses that are trying to get their foot in the door. However, if you really want to build a strong eCommerce brand and grow your business over time, it might make more sense to pursue in-house fulfillment or 3PL.
Fulfillment by Amazon:
Not content to just sell its own products and serve as a marketplace for other vendors, Amazon also has one of the most successful eCommerce fulfillment operations in the industry. Fulfillment by Amazon — more commonly known as FBA — outsources the warehousing, picking, packing and shipping components of the online fulfillment process to Amazon. The only thing retailers are responsible for are selling products and sending them to Amazon's fulfillment centers.
Although FBA is a popular option with independent retailers and Amazon sellers alike due to its built-in logistics technology and expertise, fast shipping and multichannel fulfillment capabilities, it isn't without its drawbacks. FBA has also received criticism from retailers for its strict receiving guidelines, hefty fulfillment fees, lack of visibility and higher return rates. To that end, FBA might be a good choice for businesses that straddle the line between being too big for in-house fulfillment, but too small to be able to afford the service of a 3PL provider.
Third-party Logistics:
This eCommerce fulfillment approach outsources the order fulfillment process to a third-party provider. Essentially, your company would still be responsible for either purchasing or producing inventory, but your 3PL partner would handle everything from there on out. The 3PL method combines the best of both in-house fulfillment and drop-shipping, in that it enables you to sell a unique array of products without having to invest in warehouse space, staff or order fulfillment software.
3PL providers typically have extensive logistics expertise and a network of supply chain infrastructure, which they can leverage to secure you discounted shipping rates and enable faster service capabilities. Similar to drop-shipping, 3PL reduces overhead, enabling you to channel resources to other parts of your business.
Some online retailers have the requisite in-house experience and expertise to manage their own supply chain operations. As a result, these retailers might believe that by outsourcing eCommerce order fulfillment to a 3PL, they'll lose visibility into and control over the process. Other retailers realize that their core competency lies in manufacturing or marketing and selling products and find that outsourcing supply chain operations to an expert offers a competitive advantage. These retailers typically find that partnering with a 3PL provider actually drives visibility and allows them greater control over the process.In the end, whether to outsource eCommerce fulfillment to a 3PL is a critical decision based on overall supply chain and logistics strategy.  We'll offer more advice on that subject later in this article.
Choosing Whether to In-Source or Outsource Online Fulfillment
The first step to implementing a successful eCommerce fulfillment strategy is to decide whether it makes more sense to in-source or outsource fulfillment. You might find that one method works best for your business or choose to pursue some combination of the three.
Before deciding which option(s) are right for you, consider the following questions:
How large is your business?
As mentioned, if your eCommerce operation is relatively small, you might want to consider starting with in-house fulfillment and/or drop-shipping and switching to a 3PL partnership as your business grows.
What other channels do you sell through?
Regardless whether you're an eCommerce pure player that sells across multiple different platforms, or you're a hybrid business that fulfills online orders out of brick-and-mortar stores, it's important that your eCommerce fulfillment process be handled the same way across each channel in order to create a consistent customer experience.
Do you manufacture your own products in-house or purchase them from a manufacturer?
If you currently (or intend to) produce your own inventory, in-house fulfillment or 3PL fulfillment may work best. You can still use in-house fulfillment or work with a 3PL provider even if you purchase inventory from a manufacturer; however, you might find drop-shipping more convenient.
How many products/SKUs do you sell?
Keep in mind that the more products you sell (or intend to sell), the more space you'll need to store them. Again, this may not be an issue for larger companies, but small eCommerce businesses will want to factor that into the decision-making process when choosing between in-house fulfillment, drop-shipping and a 3PL partnership.
How many orders do you typically receive in a week? A month? A year?
This is similar to the previous question in that it relates to scalability. Even if, at present, your online store only gets a dozen sales a month, your long-term goal is probably to make hundreds — even thousands — of sales in that same amount of time. Then there's seasonal demand to consider: Your average sales volume could skyrocket around the holidays, meaning you'll need to scale your operation up at a relatively rapid rate, and then back down again as demand subsides.
Although you aren't permanently locked into any one eCommerce fulfillment method, it's still important to determine whether the strategy you choose now will be scalable enough to accommodate your business as it grows. If you anticipate that your business will grow exponentially in a relatively short amount of time, it may be more practical to choose drop-shipping and/or 3PL instead of in-house fulfillment. Even if you run a large-scale eCommerce operation with a high volume of weekly, monthly and annual orders and the resources to support in-house fulfillment, drop-shipping and/or 3PL fulfillment may be more convenient options.
Do you have the software infrastructure to support order fulfillment?
The reality is that performing in-house fulfillment for a large-scale eCommerce operation requires multiple software systems, including an eCommerce platform, an order management system and a warehouse management system. All of these systems need to be tightly integrated in order to ensure that the order fulfillment process moves as smoothly as possible.
These systems can also be prohibitively expensive to license, implement and operate. If you're concerned about costs, it may be more practical to work with a drop-shipper and/or a 3PL provider that already has a software infrastructure in place to support order fulfillment.
Do you have the in-house expertise to navigate the eCommerce fulfillment process?
Though it may seem simple enough, online fulfillment is more complex than you might think, especially if you have high sales volumes. Although in-house fulfillment can be great for businesses just getting their start, larger, more established companies can benefit from the years — sometimes even decades — of experience that a drop-shipper and/or 3PL provider bring to the table. At the end of the day, the more experienced your provider, the more control you have over the entire order fulfillment process.
Where are your customers based?
As the saying goes, it's all about location, location, location. Regardless whether you operate out of your home or an actual, dedicated warehousing facility, your fulfillment center should be located close to your customer base.
That said, establishing a fulfillment center can be prohibitively expensive for small eCommerce businesses, especially if your customer base is highly distributed or concentrated in major urban areas where space is at a premium and real estate prices are at an all-time high. You could create one or more micro-fulfillment centers — warehouse facilities with a smaller footprint than traditional fulfillment centers — but even these can be incredibly costly. Partnering with a drop-shipper or a 3PL provider enables smaller merchants to access prime fulfillment center locations without breaking the bank.
Major companies can also benefit from such a partnership: Rather than waste valuable time searching through real estate listings, large eCommerce retailers can establish turnkey operations with drop-shippers or 3PL providers who already have fulfillment centers in hot markets.
18 Questions to Ask When Choosing a 3PL Partner
So, you've come this far and decided that partnering with a 3PL provider for order fulfillment is the best option for your eCommerce business. How do you know which 3PL company is the right 3PL company?
Here are some questions you can ask contenders to guide your search:
Do you have experience working with eCommerce businesses?
Do you have experience fulfilling orders for products similar to the ones my company sells?
In addition to eCommerce fulfillment, are you able to support other distribution channels, including retail, wholesale and other?
What does your fulfillment network look like in terms of locations and capacity?
What are your average order fulfillment turnaround times?
Do you have the capacity to handle unplanned spikes in demand?
Are you able to scale on short notice to accommodate sudden volume increases?
Do you have a robust warehouse management system?
Do you have the ability to determine best location(s) to ship from, e.g. a Distributed Order Management (DOM) system?
Will your software systems integrate with my company's eCommerce platform and other internal business systems?
Are you able to offer value-added services, such as kitting, assembly, special packaging and labeling, and quality assurance, or otherwise to support my sales and marketing needs?
What is your communication strategy?
What KPIs and metrics do you monitor?
What reporting do you offer?
Will you be able to provide visibility into the order fulfillment process?
Are you able to provide returns management services?
Are you able to negotiate discounted shipping rates on our company's behalf?
A great way to get answers to these and other questions — as well as a detailed solution to your unique online fulfillment challenges — is to submit a request for proposal (RFP) to various 3PL providers. Here's a blog post to help you write an RFP that will really get potential partners' attention:
Find the Ideal Partner in Legacy Supply Chain
Looking for a third-party logistics power with the operational expertise, robust technological infrastructure and out-of-the-box thinking to help take your eCommerce business to the next level? Then you've come to the right place. For nearly 40 years, Legacy Supply Chain has been helping retailers across all verticals out-innovate the competition with highly intelligent supply chain solutions and services — including eCommerce fulfillment.
In fact, our eCommerce fulfillment operation includes a full spectrum of services — technology enablement, network and operations design, labor optimization and more — to help you gain traction and get ahead in this incredibly lucrative market.
To learn more about eCommerce fulfillment, or any of our omni-channel supply solutions, contact us today.
ECommerce Fulfillment FAQs
Q: What is eCommerce fulfillment?
A: ECommerce fulfillment — also known as online fulfillment or e-fulfillment — refers to the process by which retailers deliver online orders to customers. It's a multi-stage process that includes receiving, storage, processing, picking, packing, shipping and returns.
Q: How many eCommerce sales channels are there?
A: Although there are many different eCommerce sales channels, the most popular are direct-to-consumer (via your own webstore), direct-to-consumer (via a third-party retailer) and the Amazon Marketplace.
All three are fairly self-evident: DTC (via your own webstore) refers to selling products through your company's own branded online store; DTC (via a third-party retailer) entails selling your products through another retailer's — or other retailers' — online store(s); and the Amazon Marketplace involves selling your products through Amazon's eCommerce platform.
Q: What are the most popular eCommerce fulfillment methods?
A: Retailers have the option to either in-source or outsource online fulfillment. As such, the most popular eCommerce fulfillment methods are self-fulfillment, drop-shipping, Fulfillment by Amazon (FBA) and third-party logistics (3PL).
With in-house fulfillment, retailers are responsible for handling the entire order fulfillment process in-house, without any additional assistance.
With drop-shopping, any orders placed through a retailer's online store are sent directly to a third-party manufacturer, which is responsible for producing inventory and handling order fulfillment. In this arrangement, the retailer is only responsible for paying the manufacturer for fulfillment when orders come in.
With FBA, merchants — regardless whether they sell through Amazon or another channel — outsource the warehousing, picking, packing and shipping components of the online fulfillment process to Amazon
Finally, with 3PL, a retailer is responsible for the receiving stage of the order fulfillment process — that is, either producing or purchasing inventory. From there, a third-party provider takes over and manages the rest of the order fulfillment process.
Q: Why is it important to choose the right eCommerce fulfillment strategy?
A: Which fulfillment strategy you choose has a direct impact on everything from your eCommerce business's operating costs to your ability to offer fast and affordable shipping to customers. Although there's no right or wrong answer as to which strategy you should implement, it's important to carefully evaluate different factors, including the size of your business, your average order volume and where your customers are based, before coming to a decision.
Q: Can I use multiple eCommerce fulfillment methods?
A: Yes. In fact, many successful eCommerce retailers choose to implement some combination of the three. Ultimately, it all depends on your unique business requirements and long-term objectives.