The rise in eCommerce has made things such as shipping estimates, fees and tracking part of our everyday language. Higher customer demand has led to merchants prioritizing suppliers who can provide faster, cheaper eCommerce fulfillment solutions at a higher volume, resulting in the rising popularity of drop shipping.
However, there is much confusion about the full implications of drop shipping, leading to retailers choosing a fulfillment solution that doesn't quite align with their business. Here, we clear up some of the confusion and provide context around the relationship between drop shipping and third-party logistics fulfillment.
What Is Drop Shipping?
Drop shipping is a method of product fulfillment in which the merchant doesn't stock the product, but relies on the supplier or manufacturer to fulfill customers' orders. When a customer places an order, the retailer or vendor sends the order to the supplier, who ships the product directly from their warehouse.
In a drop shipping arrangement, the retailer never physically interacts with the product, which saves them the time and expense of picking, packing and shipping each individual order from their own inventory. Instead, they can focus on running their business, handling all marketing, communications, sales and product development, without having to manage an inventory or warehouse of their own.
This model essentially hands the reins to the manufacturer or supplier, who then controls the entire eCommerce supply chain from beginning to end. As hassle-free as this sounds for the retailer, drop shipping is not without its challenges. There are other, alternative fulfillment methods that satisfy both the customer and the merchant, giving retailers control over their eCommerce operations without having to manage inventory or package each individual order.
Benefits of Drop Shipping
Drop shipping is popular with thousands of retailers due to its undeniable benefits:
It eliminates the need for a brick-and-mortar store.
It avoids the hassle and risk of stagnant inventory.
The startup cost is relatively low compared to a traditional storefront.
There are minimal overhead costs.
Retailers can expand and diversify their product offerings without having to find physical space for them.
It enables the merchant to focus more on value-adding tasks such as sales and marketing.
It supports a more hands-off eCommerce business model.
All of these, of course, are dependent upon the quality of the supplier. A good, responsible supplier can make the drop shipping model a breeze; an unreliable supplier can make it a nightmare.

Downsides of Drop Shipping
While drop shipping sounds like a no-brainer for many retailers, an oversimplified understanding of the model can lead some to make a decision that isn't quite right for their business. Some other potential downsides of drop shipping include:
Competitive pricing in a crowded market can result in lower profit margins.
Retailers may be unable to organically build a strong brand or customer relationships.
Merchants still cover logistics costs such as insurance, inventory storage and shipping from the supplier's warehouse, further eating into profits.
Merchants still assume liability if a product is late, damaged or defective.
Shop owners still need to field customer complaints and communicate any carrier errors.
Many drop shipping suppliers are located overseas, which can add to shipping costs, lead times and breakdowns in communication and customer service.
Merchants relinquish quality control to the shipper, who may not have the retailers' best interests at heart.
Accurate delivery times can be harder to estimate.
These issues can be exacerbated by an "a la carte" approach to drop shipping — using multiple different suppliers and manufacturers, across time zones and regions, all with different quality standards.
It's not all bad news though — many of these risks can be avoided by partnering with a trusted third-party logistics provider.

Is Drop Shipping Worth It?
As with any business decision, retailers should do their due diligence and research all aspects (including the risks and hidden costs) of drop shipping before pivoting. The fact that the model is heavily reliant on a third party for fulfillment — arguably the most important aspect of an eCommerce business — should encourage merchants to thoroughly vet all potential dropship suppliers before committing.
Drop shipping has also become very competitive, causing retailers to slash their prices, lose out on revenue and go with the cheapest fulfillment option. If the goal of fulfillment is quality (read: customer satisfaction) over cost, vetting and selecting trusted suppliers takes an investment of both time and money up front.

What Is Third Party Logistics Fulfillment?
Third-party logistics (3PL) companies provide a comprehensive fulfillment solution that relieves much of the retailers' fulfillment responsibilities while guaranteeing top-notch service. 3PL essentially "intercepts" a drop shipping arrangement to add value:
A specified amount of product is shipped ahead of time directly from the manufacturer or supplier to the 3PL company.
The 3PL provider stores the inventory throughout their warehouse network.
As orders come in, the 3PL company handles the picking, packing and shipping.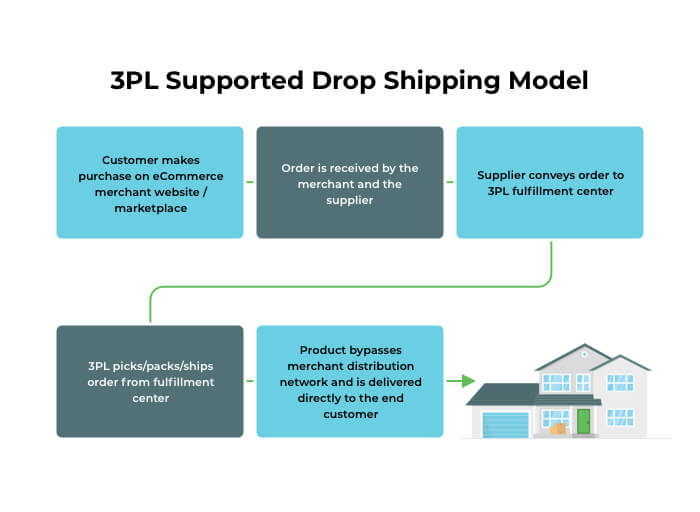 3PL services include:
eCommerce fulfillment
Warehousing
Inventory management
Omni-channel distribution
Picking inventory, packing and shipping boxes
Supply chain engineering and design
Customer service
Returns management
Customs and compliance services
When added to a drop shipping arrangement, a 3PL partner still enables eCommerce merchants to focus on value-adding tasks such as marketing and growing their business without spending time and resources on packing and shipping orders. Merchants can also distribute their inventory accordingly across the 3PL provider's warehouse network, ensuring that an appropriate volume of product is being stocked close to customers in different regions.
In this arrangement, the eCommerce merchant retains control over their fulfillment logistics and is able to control more aspects of their supply chain, thereby guaranteeing a better customer experience. 3PL companies provide custom packing and shipping options, meaning that the customers' order is branded and packed to provide a curated unboxing experience.
Many 3PL providers handle customer service on behalf of the retailer, which means that the person responding to a query or complaint actually has insight into the shipping process. 3PL companies can also leverage integrated technologies to automate parts of the eCommerce fulfillment process, helping products get into customers' hands faster.

Benefits of 3PL Fulfillment
3PL eCommerce fulfillment offers many of the same benefits as drop shipping:
It takes the responsibility of shipping logistics out of merchants' hands, enabling them to focus on growing their business.
Merchants do not need to store or manage their own inventory.
Partnering with a 3PL provider also delivers some additional benefits:
3PL providers make fulfillment their speciality — it's what they do best.
Client (retailer) support comes standard in a 3PL partnership.
3PL companies maintain a network of warehouses, which can reach customers in different regions faster than a single supplier.
Faster guaranteed delivery times result in higher order volumes, fewer abandoned carts, more favorable reviews and more repeat customers.
3PL companies can provide merchants with dedicated account managers, regional onsite coordinators and even customer service representatives.
Retailers have more visibility into the shipping process.
3PL operations can scale with the merchant's business.
With advanced analytics, a 3PL company can help merchants forecast trends in customer demand and plan accordingly.
3PL warehousing offers better inventory control and turnover than drop shipping alone.
Merchants can design and dictate their own unique packaging and unboxing experiences.
What Is FBA?
There's another acronym bouncing around the 3PL universe: FBA, or "fulfillment by Amazon." This is a popular model in which Amazon acts as retailer's 3PL provider, receiving and storing inventory in its warehouses and fulfilling orders when that retailer makes a sale.
Many retailers maintain shops through Amazon, while not necessarily being affiliated with the eCommerce giant. Their eCommerce shops may be housed elsewhere too; for example, a retailer may manage and receive orders through an Etsy shop, but the package that arrives on the customer's doorstep comes from an Amazon warehouse and is delivered by an Amazon driver.
FBA and drop shipping are similar in that the product comes from the supplier, not the retailers' inventory. However, as in a standard 3PL arrangement, Amazon handles all shipping logistics, refunds, returns, warehousing and customer service. Business owners are responsible for restocking inventory and ensuring their orders arrive at the Amazon warehouse from the supplier, but otherwise the arrangement is fairly hands-off.
The primary downside of FBA is that Amazon is not strictly focused on 3PL. They are a retailer themselves, so other eCommerce merchants must rely on the Amazon platform and any associated bugs, glitches or hacks. It can also take a significant investment up front, and quality fulfillment is not necessarily guaranteed. Some 3PL providers are able to offer FBA services using system integrations, so retailers can be confident that their customers' fulfillment is the provider's top priority.

How 3PL Fulfillment Can Support Drop Shipping
If drop shipping and 3PL sound similar, it's because they are — think of 3PL as drop shipping with an additional step and extra quality control. Both models require that eCommerce merchants rely on a third party for their fulfillment services; the main difference is that 3PL providers specialize in fulfillment, whereas suppliers or manufacturers may not prioritize the retailers' brand quality standards.
3PL companies can also offer enhanced customer service, whereas a drop shipping merchant without a 3PL arrangement is at the mercy of a suppliers' shipping standards, meaning they lack visibility into the process, are still on the hook for fielding customer complaints and are responsible for handling returns.
Third-party logistics can help direct-to-consumer shops strengthen their brand, build customer loyalty and grow their business without having to worry about fulfillment. The model prioritizes the customer experience in a way that drop shipping by itself does not. This does not mean that drop shipping is wrong for every business; some eCommerce companies present an ideal case for dropshipping.
Here's a simplified comparison of how drop shipping and 3PL fulfill merchants' needs, and why one model might be preferable to the other:
Drop Shipping Alone
Both
Drop Shipping with 3PL
Can help small eCommerce businesses grow and expand quickly
Enables merchants to focus on marketing, sales, product development and business growth
Enables the merchant to retain control over fulfillment
Low start-up cost
Supports a hands-off approach to eCommerce
Prioritizes the customer experience
Competitive market
Saves money on inventory production, storage and shipping
Offers custom packaging options
Limited visibility into shipping process
Supports scalability and business growth
Does not offer customer support
Provides visibility into the shipping process
Offers customer support
Can speed up delivery times
Offers dedicated account management

Higher up-front investment
Since each carries its own benefits, it is ultimately up to each business owner to decide:
How they want to manage their inventory
How involved they want to be with inventory management
How important the customer experience is to them
What their fulfillment budget will support
How they can provide effective fulfillment options while supporting long-term growth
At Legacy, we specialize in providing right-sized, dynamic, omni-channel 3PL services to eCommerce businesses across all sectors. By focusing on top-notch service and transparency, we keep the customer at the forefront of our operations while prioritizing our clients' needs and preferences. See why more and more growing eCommerce businesses are choosing Legacy for all their fulfillment needs.

FAQs About Drop Shipping
Is drop shipping legal?
Dropshipping is legal but, due to a merchants' lack of visibility into the fulfillment process, there is some risk of unethical practices on the part of the supplier. For example, a supplier could be generating fake products or using unethical business practices to fulfill customer orders. It is first and foremost the retailer's job to research and vet all suppliers and manufacturers; customers, too, should be wary of suspicious online storefronts or products that do not match their online listing.
Is drop shipping profitable?
It depends on how eCommerce merchants price their products, and also how reliable the supplier is. With a low up-front investment, drop shipping can be lucrative if merchants maintain their original pricing and if suppliers prioritize quality. If merchants regularly slash prices to compete with other drop shippers, they risk narrowing the profit margin or even losing revenue from damaged products and customer refunds.
Who handles customer service and returns with drop shipping fulfillment?
In a drop shipping arrangement, the merchant is still responsible for handling all customer service, including complaints, returns, refunds and issue resolution.
Can international orders be drop shipped?
It depends on where the supplier is based and if they ship overseas. Many suppliers are based in a different country than the eCommerce retailer, so many domestic orders will be international by default. If a supplier is based in the same country or region as the merchant, they may only be limited to orders within that range.