A WORD FROM LEGACY
Welcome once again to the Legacy Monthly Shipment, your go-to source for the latest logistics news, insights and updates.
We've got some major stories to cover this month, so let's dive right in with our Market Update:
MARKET UPDATE
January 2022 Logistics Managers' Index Marks One Full Year of 70.0+ Readings
Released on February 1, the January 2022 Logistics Managers' Index (LMI) Report came in at a reading of 71.9 — a 1.8 point increase from December's 70.1 reading. According to the report, "[This] marks a full year of growth rates above 70.0 — a level we would classify as significant expansion."
The surplus of inventory ordered during the lead up to holiday season 2021 continues to flow through supply chains at a slow rate due to low capacity and high costs. This stagnation has contributed to even lower capacity and higher costs and prevented high-turn inventories from moving at the usual rate, causing some firms to carry an excess of inventory and others, such as grocery stores, to experience shortages. Bank of America has responded to this dynamic — as well as the spread of the omicron variant — by adjusting its Q1/22 U.S. GDP growth depiction down from 4% to 1%.
Despite this slowdown, industry leaders remain bullish on 2022, citing "a fast-moving freight market, driven by strong consumer and industrial markets." This is consistent with the LMI's predictions. The report notes that, although volumes at southern Californian ports were down 19.3% year over year during the last week of January, logistics professionals could expect volumes to be up 66% during the first two weeks of February, and up 38% YoY.
Another major trend to watch for Q1/22 — and beyond — is congestion at all major ports. Though the ports of Los Angeles and Long Beach have been long afflicted by significant port congestion, the LMI now reports that wait times at the port of New York/New Jersey are 3.5 times longer than in January 2021, and that backups have increased at the ports of Charleston and Savannah.
The ongoing labor shortage threatens to make the situation even worse, as well as cause significant issues in air freight: U.S. airlines canceled over 1,000 flights daily throughout the first two weeks of January, citing staffing shortages as a leading cause. Many major retail firms have invested in automation in an effort to increase job satisfaction and retain workers; though effective, this approach has contributed to a 6%–7% price increase on consumer goods in order to offset costs.
Other key insights from the January 2022 LMI:
The LMI's Warehousing Capacity index has contracted for the 17th consecutive month, with warehousing space becoming increasingly scarce, especially in high-demand urban areas.
In a recent survey, 99% of retailers reported that they would offer same-day delivery by 2025 — an ambitious goal, given that only 35% of retailers surveyed currently offer this service.
In light of surplus inventory, strong eCommerce demand, low warehousing capacity, and high warehousing costs and utilization, a growing number of retailers are acquiring their own upstream distribution centers to store goods.
Transportation networks find themselves under continued strain, with truck mileage up 2% in 2021 and on track to increase by 7.4% over the next two years. The LMI report predicts that transportation prices will continue to rise for the remainder of the quarter, and its Transportation Capacity index has reached its 20th consecutive month of contraction.
Also in Today's Shipment:
The Ambassador Bridge reopens following weeks of protests.
Labor contract negotiations loom large along West Coast ports.
U.S. lawmakers aim to hold carriers accountable with revised Ocean Shipping Reform Act.
Assessing the impact of a potential Russo-Ukrainian conflict to global supply chains.
---
IN THE NEWS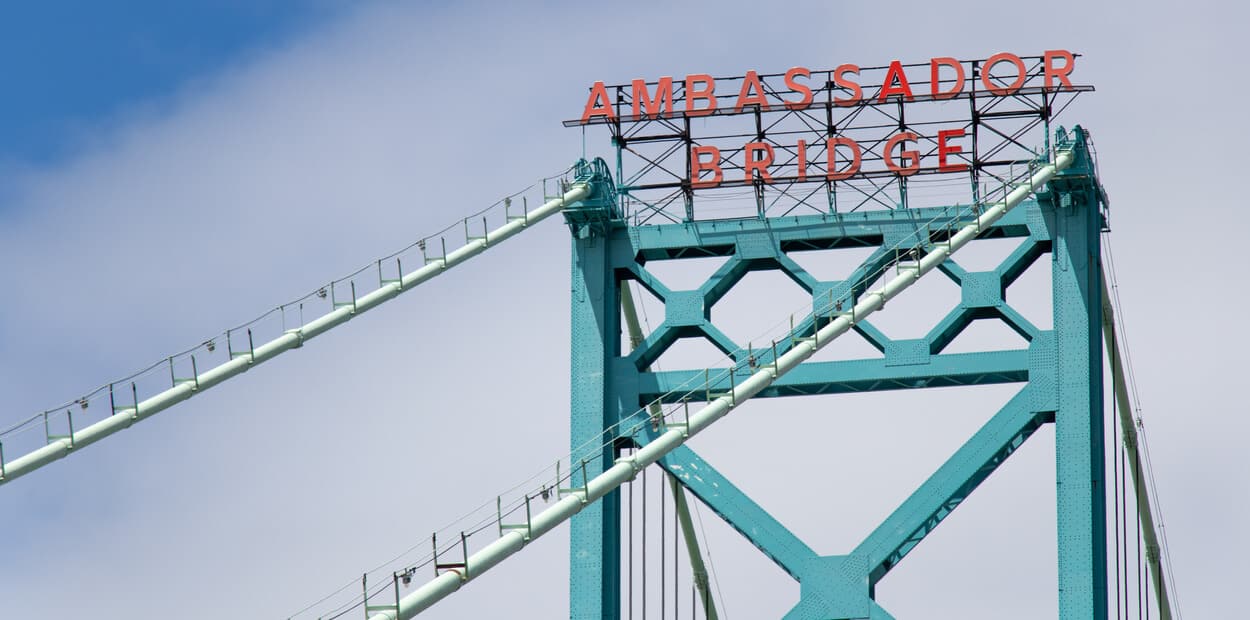 BREAKING
The Ambassador Bridge Reopens but U.S.-Canadian Border Protests Continue
On Sunday, February 13, the Ambassador Bridge between Detroit, Michigan, and Windsor, Ontario — the busiest commercial crossing between the U.S. and Canada — reopened following weeks of protests. At time of publication, the Coutts, Alberta / Sweet Grass, Montana and Emerson, Manitoba / Pembina, North Dakota border crossings remain closed, and traffic leading up to the Pacific Highway crossing between British Columbia and Washington and the Peace Bridge between Buffalo, New York, and Fort Erie, Ontario, remains disrupted. Hundreds of trucks and demonstrators also remain in the Canadian capital of Ottawa, Ontario.
It's a story that logistics professionals and laypeople alike have been following closely: Convoys protesting vaccine mandates in the trucking industry have created blockades along the U.S.-Canadian border, severely impacting down international trade and further disrupting already fragile supply chains. Already, some $355 million USD in goods have been held up at the border, and multiple automotive manufacturers have had to idle factories due to an inability to obtain parts. Taking a longer view, should these disruptions persist — and they are expected to — they could have a serious impact on imports and exports, particularly machinery and equipment, rubber and plastics, and agricultural products.
"Even if the blockades ended tomorrow, it would take days, likely many weeks for the flow of business to return," says Emiliano Introcaso, an international business advisor at Export Development Canada. "For many Canadian companies, they're still reeling from the impacts of COVID-19. This just adds another layer of complexity and stress on an already strained supply chain. The reality is if you can't fulfill your contracts, it can absolutely be detrimental to the business. Some exporters will fail."
On Monday, February 14, Canadian Prime Minister Justin Trudeau invoked the Emergencies Act, which temporarily grants the federal government broad powers to restore order, for the first time in Canada's history. The federal government is expected to use the Act's provisions to deploy additional police resources at border crossings, bar protestors from gathering in certain locations and bar the use of crowdfunding for illegal activities.
Despite calls from some sources for intervention from armed forces, in his official announcement, Trudeau maintained that he will not deploy the military. He further emphasized the that federal government would not use the Emergencies Act to "[suspend] fundamental rights or [override] the Charters of Rights and Freedoms"; "[limit] people's freedom of speech" or "freedom of peaceful assembly"; or "[prevent] people from exercising their right to protest legally."
---
NEWS
ILWU and PMA to Go Toe-to-Toe in Contract Negotiation Standoff
The International Longshore and Warehouse Union (ILWU) and the Pacific Maritime Association (PMA) — the two groups representing dockworkers and shipping companies, respectively — are set to enter months-long negotiations in an effort to  hammer out a new contract before the current one expires on July 1, 2022.
As reported in The American Prospect, PMA President Jim McKenna formally requested a contract extension in November 2021, citing concerns that negotiations would lead to additional supply chain disruptions. The ILWU — which represents an estimated 20,000 dockworkers at 29 ports in California, Oregon and Washington — summarily rejected this request, making it clear that the union fully intends to move forward with negotiations following three years of delayed talks.
In his official response, ILWU President Willie Adams emphasized that shipping companies have made "historic profits off the back of ILWU dockworkers" — indeed, the Prospect reports that the top 10 publicly listed shipping companies were on track to earn a record $115 billion in profits in 2021.
The potential automation of cargo handling is expected to be the primary focus of negotiations, with carriers advocating for automation as a means of increasing supply chain resilience, and union officials opposing it over job loss concerns. Some industry outlets predict that ILWU will not only resist further automation, but also fight to roll back existing automation allowances, which were the primary subject of the contentious West Coast negotiations that took place from 2014 to 2015.
Anticipating a repeat of those negotiations, S&P Global reports that shippers active on trans-Pacific lanes have started to look for alternative routings, sending shipments to U.S. Atlantic and Gulf Coast gateways. In addition to mitigating risk should negotiations turn sour, this strategy gives shippers the opportunity to "diversify inbound cargo routing in the face of widespread and sustained congestion on both coasts."
---
LEGISLATION
Lawmakers and Regulators Team up for Ocean Shipping Reform Act Update
As reported in last month's shipment, demurrage fees have become a major point of contention between railroads and shippers, with the former claiming them to be a necessary evil in order to keep shipments moving, and the latter decrying them as an unscrupulous practice.
Railyards aren't the only place shippers are subject to demurrage: Ocean carriers have imposed similar fees on containers idling in ports for extended periods of time. This led to further outcry from shippers, which prompted an official investigation from the Federal Maritime Commission (FMC) and two new initiatives concerning demurrage and detention. Now, nearly six months out from the FMC's announcement, U.S. lawmakers and regulators are taking additional steps to address carrier fees.
Senators Amy Klobuchar and John Thune have introduced bipartisan legislation that would add new provisions to the Ocean Shipping Reform Act (OSRA), including limiting carriers' ability to impose added fees on container handling. Additional provisions include:
Requirements for operating a shipping exchange involving ocean transportation in the foreign commerce of the United States;
Requirements for ocean common carriers to report to the FMC each calendar quarter on total import and export tonnage;
Revisions to annual reporting requirements for the FMC on foreign laws and practices, and;
Directions for the FMC to establish rules prohibiting ocean common carriers and marine terminal operators from adopting and applying unjust and unreasonable demurrage and detention fees.
You can see the full text of the new Ocean Shipping Reform Act here.
As is to be expected, industry groups are split as to whether the Act — which was first passed by the House in December 2021 — will foment any meaningful change.
The World Shipping Council, a Washington-based trade group representing carriers, has said that the proposed changes "could be broadly helpful, but won't unclog supply chains." Conversely, the American Apparel & Footwear Association has praised the OSRA's provisions, with President and CEO Steve Lamar stating that it "meets a dire need for increased enforcement by the Federal Maritime Commission."
Paul Bingham, director of IHS Markit Economics and Country Risk / Transportation Consulting, offered cautious optimism, stating that OSRA contained no major surprises but, assuming the language from the original House bill survives in the final law passed, that "the annoying detention and demurrage charges having the burden of proof shifted to the ocean carriers would help shippers."
---
FORECAST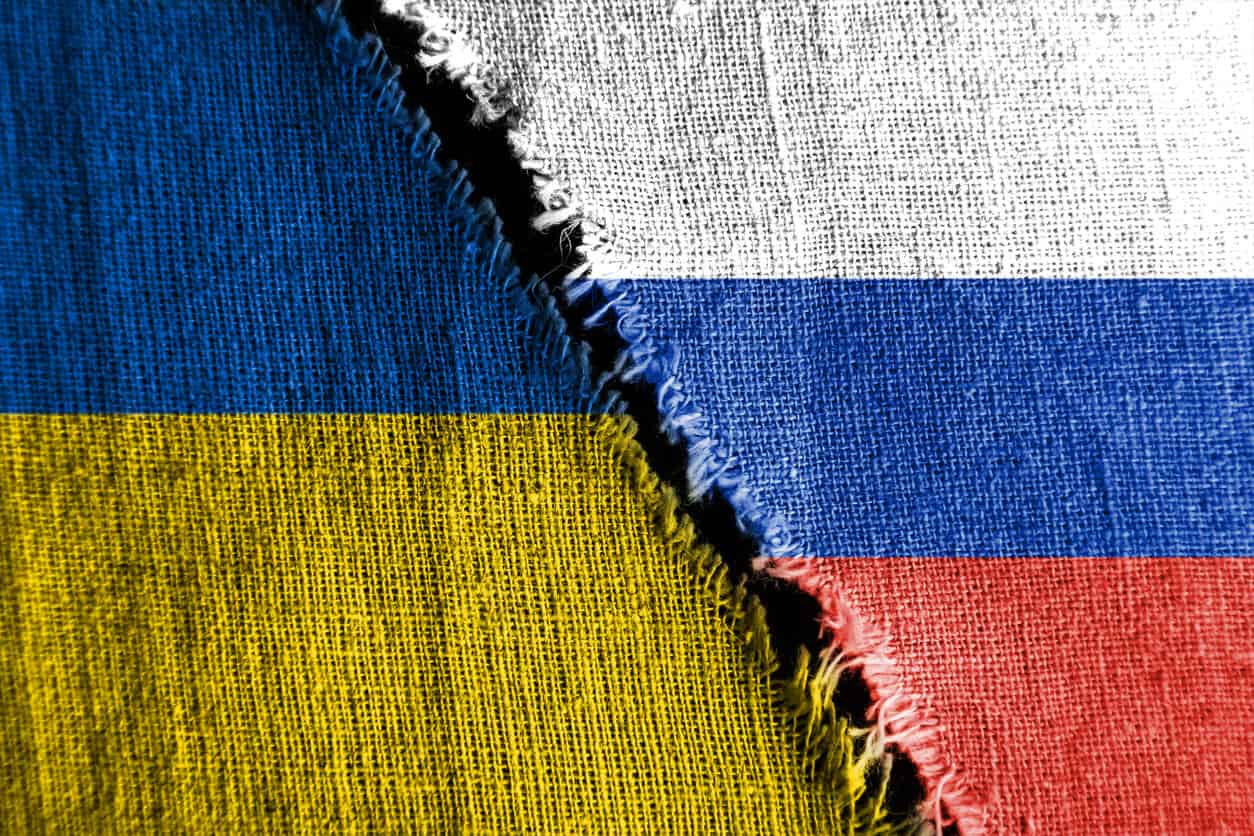 Global Supply Chains Brace for Impact of Potential Russia-Ukraine Conflict
As Russian troops amass along the Ukrainian border, logistics professionals are left to watch the situation unfold with bated breath.
The Russo-Ukrainian crisis has been unfolding for the better part of three decades, but tensions escalated in 2021 when Ukrainian President Volodymyr Zelensky — under pressure from Russia to implement 2014 and 2015 Minsk agreements — urged North Atlantic Treaty Organization (NATO) leadership to put Ukraine on a timeline for membership. This prompted swift backlash from Russian President Vladimir Putin, who — amongst other demands — asked that Ukraine be permanently barred from NATO membership.
Despite promises from Russia that it has no intentions of invading Ukraine and diplomatic efforts from the U.S., the U.K. and nations across Europe, the situation remains balanced on a razor's edge — and the potential fallout for global supply chains could be severe.
According to a recent report from Global Trade magazine, should Russia invade Ukraine, global supply chains could experience the following impacts:
Commodity price increases: As the main supplier of natural gas to the European Union (EU), supply pressures could lead to a dramatic increase in both natural gas and oil prices. Food inflation is also a risk, as Ukraine is one of the world's largest exporters of corn, wheat, barley and rye. Finally, Russia controls significant copper reserves and is a major producer of nickel and platinum, which could drive up costs within the metal market.
Firm-level export controls and sanctions: U.S. and European exports controls on Russian energy producers, mining and steel market firms and financial organizations could further exacerbate commodity cost inflation.
Cybersecurity collateral damage: Escalating tensions could trigger Russian cyber aggression similar to that of the 2017 NotPetya attack on Ukrainian tax reporting software, which brought down Maersk's IT infrastructure and cost companies a combined $7.3 billion.
Geopolitical instability: Should the situation devolve into war, Europe could experience a refugee crisis as Ukrainians seek safety from the conflict, and countries throughout Africa and Asia — which depend on Ukraine for wheat imports — could face increased food insecurity and rising costs.
---
We've covered multiple developing stories in this issue, all of which we'll be monitoring closely and sharing updates on in the weeks to come, so be sure to check out next month's Shipment.
Until then, we encourage you to check out our blog or resource center — or, if you'd like to talk directly to an expert, give us a call.
Until next month, this is the Legacy team, signing off.